Defining character sets ↩
A character set is a list of glyph names, in a particular order. It defines which glyphs are included in a font, and determines which languages are supported.
Character sets are just one way of looking at the glyphs included in a font. See Smart Sets for another approach.
Managing character sets
In RoboFont, character sets can be created, edited and deleted in the Font Overview Preferences: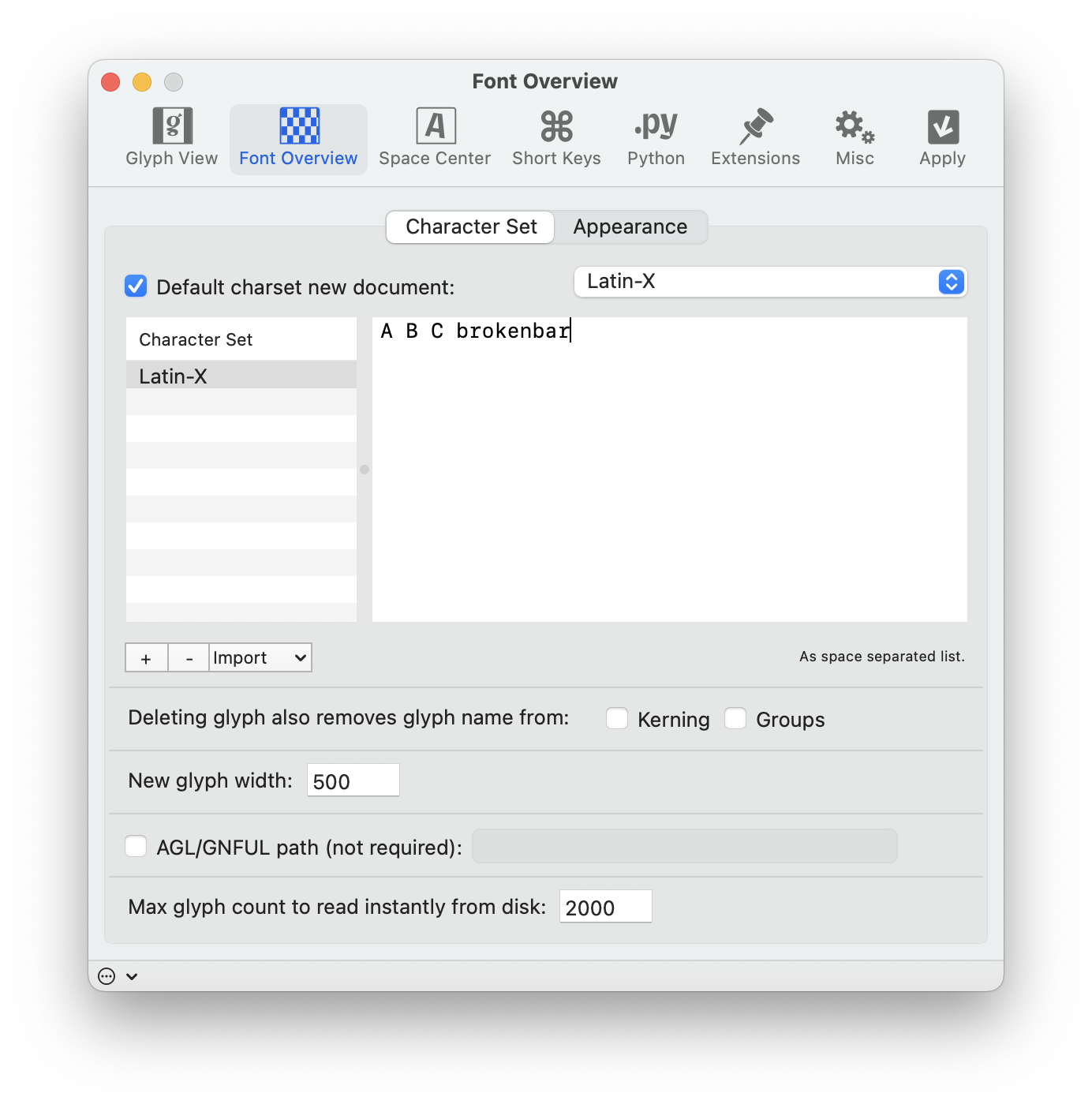 Each character set is defined as a space-separated list of glyph names.
Glyphs which are made out of one or more components can be expressed as simple glyph construction formulas: ccedilla=c+cedilla. Unicode values can also be assigned. Here are some more examples:
A grave Agrave=A+grave Aringacute=A+ring+acute acute|00B4 Aacute=A+acute|00C1

Glyph Construction, a powerful language for creating glyphs from components
Using standard character sets
If you are new to making fonts, it's probably a good idea to use an existing character set as a starting point. This is a good way to learn and benefit from the experience of other font makers. As you become more experienced, you'll start making changes based on your own preferences or special needs.
For general purpose fonts, Adobe's Latin Character Sets are a good place to start. Underware's Latin Plus is another useful reference, providing detailed information about individual languages.

If you work for Greek or Cyrillic scripts, have a look at Adobe's Greek and Cyrillic Character Sets.
Note that these character sets include only the basic encoded glyphs; unencoded glyphs which are used by OpenType features (for example small caps, different sets of figures, stylistic alternates etc.) are not listed.
Examples
Below are some example character sets, formatted as space-separated lists:
ASCII
space exclam quotedbl numbersign dollar percent ampersand quotesingle parenleft parenright asterisk plus comma hyphen period slash zero one two three four five six seven eight nine colon semicolon less equal greater question at A B C D E F G H I J K L M N O P Q R S T U V W X Y Z bracketleft backslash bracketright asciicircum underscore grave a b c d e f g h i j k l m n o p q r s t u v w x y z braceleft bar braceright asciitilde

Adobe Latin-1
space exclam quotedbl numberssign dollar percent ampersand quotesingle parenleft parenright asterisk plus comma hyphen period slash zero one two three four five six seven eight nine colon semicolon less equal greater question at A B C D E F G H I J K L M N O P Q R S T U V W X Y Z bracketleft backslash bracketright asciicircum underscore grave a b c d e f g h i j k l m n o p q r s t u v w x y z braceleft bar braceright asciitilde exclamdown cent sterling currency yen brokenbar section dieresis copyright ordfeminine guillemotleft logicalnot registered macron degree plusminus twosuperior threesuperior acute uni00B5 paragraph periodcentered cedilla onesuperior ordmasculine guillemotright onequarter onehalf threequarters questiondown Agrave Aacute Acircumflex Atilde Adieresis Aring AE Ccedilla Egrave Eacute Ecircumflex Edieresis Igrave Iacute Icircumflex Idieresis Eth Ntilde Ograve Oacute Ocircumflex Otilde Odieresis multiply Oslash Ugrave Uacute Ucircumflex Udieresis Yacute Thorn germandbls agrave aacute acircumflex atilde adieresis aring ae ccedilla egrave eacute ecircumflex edieresis igrave iacute icircumflex idieresis eth ntilde ograve oacute ocircumflex otilde odieresis divide oslash ugrave uacute ucircumflex udieresis yacute thorn ydieresis dotlessi Lslash lslash OE oe Scaron scaron Ydieresis Zcaron zcaron florin circumflex caron breve dotaccent ring ogonek tilde hungarumlaut endash emdash quoteleft quoteright quotesinglbase quotedblleft quotedblright quotedblbase dagger daggerdbl bullet ellipsis perthousand guilsinglleft guilsinglright fraction Euro trademark minus fi fl

Adobe Latin-2
space exclam quotedbl numbersign dollar percent ampersand quotesingle parenleft parenright asterisk plus comma hyphen period slash zero one two three four five six seven eight nine colon semicolon less equal greater question at A B C D E F G H I J K L M N O P Q R S T U V W X Y Z bracketleft backslash bracketright asciicircum underscore grave a b c d e f g h i j k l m n o p q r s t u v w x y z braceleft bar braceright asciitilde uni00A0 exclamdown cent sterling currency yen brokenbar section dieresis copyright ordfeminine guillemotleft logicalnot uni00AD registered macron degree plusminus twosuperior threesuperior acute uni00B5 paragraph periodcentered cedilla onesuperior ordmasculine guillemotright onequarter onehalf threequarters questiondown Agrave Aacute Acircumflex Atilde Adieresis Aring AE Ccedilla Egrave Eacute Ecircumflex Edieresis Igrave Iacute Icircumflex Idieresis Eth Ntilde Ograve Oacute Ocircumflex Otilde Odieresis multiply Oslash Ugrave Uacute Ucircumflex Udieresis Yacute Thorn germandbls agrave aacute acircumflex atilde adieresis aring ae ccedilla egrave eacute ecircumflex edieresis igrave iacute icircumflex idieresis eth ntilde ograve oacute ocircumflex otilde odieresis divide oslash ugrave uacute ucircumflex udieresis yacute thorn ydieresis dotlessi Lslash lslash OE oe Scaron scaron Ydieresis Zcaron zcaron florin circumflex caron uni02C9 breve dotaccent ring ogonek tilde hungarumlaut pi endash emdash quoteleft quoteright quotesinglbase quotedblleft quotedblright quotedblbase dagger daggerdbl bullet ellipsis perthousand guilsinglleft guilsinglright fraction Euro uni2113 trademark uni2126 estimated partialdiff uni2206 product summation minus uni2215 uni2219 radical infinity integral approxequal notequal lessequal greaterequal lozenge fi fl

Adobe Latin-3
space exclam quotedbl numbersign dollar percent ampersand quotesingle parenleft parenright asterisk plus comma hyphen period slash zero one two three four five six seven eight nine colon semicolon less equal greater question at A B C D E F G H I J K L M N O P Q R S T U V W X Y Z bracketleft backslash bracketright asciicircum underscore grave a b c d e f g h i j k l m n o p q r s t u v w x y z braceleft bar braceright asciitilde uni00A0 exclamdown cent sterling currency yen brokenbar section dieresis copyright ordfeminine guillemotleft logicalnot uni00AD registered macron degree plusminus twosuperior threesuperior acute uni00B5 paragraph periodcentered cedilla onesuperior ordmasculine guillemotright onequarter onehalf threequarters questiondown Agrave Aacute Acircumflex Atilde Adieresis Aring AE Ccedilla Egrave Eacute Ecircumflex Edieresis Igrave Iacute Icircumflex Idieresis Eth Ntilde Ograve Oacute Ocircumflex Otilde Odieresis multiply Oslash Ugrave Uacute Ucircumflex Udieresis Yacute Thorn germandbls agrave aacute acircumflex atilde adieresis aring ae ccedilla egrave eacute ecircumflex edieresis igrave iacute icircumflex idieresis eth ntilde ograve oacute ocircumflex otilde odieresis divide oslash ugrave uacute ucircumflex udieresis yacute thorn ydieresis Amacron amacron Abreve abreve Aogonek aogonek Cacute cacute Ccaron ccaron Dcaron dcaron Dcroat dcroat Emacron emacron Edotaccent edotaccent Eogonek eogonek Ecaron ecaron Gbreve gbreve uni0122 uni0123 Imacron imacron Iogonek iogonek Idotaccent dotlessi uni0136 uni0137 Lacute lacute uni013B uni013C Lcaron lcaron Lslash lslash Nacute nacute uni0145 uni0146 Ncaron ncaron Omacron omacron Ohungarumlaut ohungarumlaut OE oe Racute racute uni0156 uni0157 Rcaron rcaron Sacute sacute uni015E uni015F Scaron scaron uni0162 uni0163 Tcaron tcaron Umacron umacron Uring uring Uhungarumlaut uhungarumlaut Uogonek uogonek Ydieresis Zacute zacute Zdotaccent zdotaccent Zcaron zcaron florin uni0218 uni0219 uni021A uni021B circumflex caron uni02C9 breve dotaccent ring ogonek tilde hungarumlaut pi endash emdash quoteleft quoteright quotesinglbase quotedblleft quotedblright quotedblbase dagger daggerdbl bullet ellipsis perthousand guilsinglleft guilsinglright fraction Euro uni20BA uni20BD uni2113 trademark uni2126 estimated partialdiff uni2206 product summation minus uni2215 uni2219 radical infinity integral approxequal notequal lessequal greaterequal lozenge fi fl

Underware Latin Plus
.notdef .null CR space uni00A0 A B C D E F G H I J K L M N O P Q R S T U V W X Y Z a b c d e f g h i j k l m n o p q r s t u v w x y z Agrave agrave Aacute aacute Acircumflex acircumflex Atilde atilde Adieresis adieresis Amacron amacron Abreve abreve Aring aring Aringacute aringacute Adotbelow adotbelow Aogonek aogonek AE ae AEacute aeacute Cacute cacute Ccircumflex ccircumflex Ccaron ccaron Cdotaccent cdotaccent Ccedilla ccedilla Dcaron dcaron Dcroat dcroat Eth eth Egrave egrave Eacute eacute Ecircumflex ecircumflex Etilde etilde Ecaron ecaron Edieresis edieresis Emacron emacron Ebreve ebreve Edotaccent edotaccent Edotbelow edotbelow Eogonek eogonek Gcircumflex gcircumflex Gcaron gcaron Gbreve gbreve Gdotaccent gdotaccent Gcommaaccent gcommaaccent Hcircumflex hcircumflex Hbar hbar dotlessi Igrave igrave Iacute iacute Icircumflex icircumflex Itilde itilde Idieresis idieresis Imacron imacron Ibreve ibreve Idotaccent i.TRK Idotbelow idotbelow Iogonek iogonek dotlessj Jcircumflex jcircumflex Kcommaaccent kcommaaccent kgreenlandic Lacute lacute Lcaron lcaron Lcommaaccent lcommaaccent Lslash lslash Ldot ldot Nacute nacute Ntilde ntilde Ncaron ncaron Ncommaaccent ncommaaccent Nhookleft nhookleft Eng eng napostrophe Ograve ograve Oacute oacute Ocircumflex ocircumflex Otilde otilde Odieresis odieresis Omacron omacron Obreve obreve Ohungarumlaut ohungarumlaut Odotbelow odotbelow Oogonek oogonek Oslash oslash Oslashacute oslashacute OE oe Racute racute Rcaron rcaron Rcommaaccent rcommaaccent Sacute sacute Scircumflex scircumflex Scaron scaron Scedilla scedilla Scommaaccent scommaaccent uni1E9E germandbls germandbls.alt Tcaron tcaron uni0162 uni0163 uni021A uni021B Tbar tbar Thorn thorn Ugrave ugrave Uacute uacute Ucircumflex ucircumflex Utilde utilde Udieresis udieresis Umacron umacron Ubreve ubreve Uring uring Uhungarumlaut uhungarumlaut Udotbelow udotbelow Uogonek uogonek Wgrave wgrave Wacute wacute Wcircumflex wcircumflex Wdieresis wdieresis Ygrave ygrave Yacute yacute Ycircumflex ycircumflex Ytilde ytilde Ydieresis ydieresis Ymacron ymacron Zacute zacute Zcaron zcaron Zdotaccent zdotaccent IJ ij IJacute ijacute Schwa schwa f_f fi f_i fl f_l f_ij f_f_i f_f_l f_f_ij ampersand at asterisk copyright registered trademark asciicircum asciitilde grave gravecap acute acutecap circumflex circumflexcap caron caroncap caronalt tilde tildecap dieresis dieresiscap macron macroncap uni02C9 breve brevecap ring ringcap hungarumlaut hungarumlautcap dotaccent dotaccentcap cedilla dotbelowcomb ogonek commaaccent commaaccentalt uni00AD hyphen endash emdash underscore period comma colon semicolon exclam exclamdown question questiondown ellipsis periodcentered uni2219 bullet slash backslash bar brokenbar parenleft parenright bracketleft bracketright braceleft braceright quotesingle quotedbl quoteleft quoteright quotedblleft quotedblright quotesinglbase quotedblbase guilsinglleft guilsinglright guillemotleft guillemotright paragraph uniF8FF numbersign zero one two three four five six seven eight nine zeroslash fraction uni2215 onequarter onehalf threequarters degree percent perthousand plus minus plusminus equal notequal approxequal multiply less greater lessequal greaterequal divide logicalnot dagger daggerdbl section Euro currency dollar cent florin sterling yen onesuperior twosuperior threesuperior ordfeminine ordmasculine uni2116 Delta Deltagreek Omega Omegagreek mu mugreek pi uni2113 estimated infinity partialdiff integral radical summation product lozenge